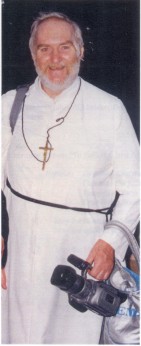 For many of the independent film makers, Br. Oswin McKinney, fms, Order of Marist Brothers, was an icon and his name was synonymous with Marscom Television, the entity he founded to assist the low-budget projects to get to air in top-quality mode or to assist only those needing a simple video production. Whether it was a major production or a simple video, Br. "Oz" was always there.
With his passing, Br. Oswin's media dream for Marist Communications lives on as his work still continues through the dedicated team at Marscom. The team has completed many projects such as the re-mastering of "A Remarkable Life" for Our Lady's Nurses for the Poor, a documentary on the life of Eileen O'Connor, the co-founder of the Order and celebrating over 100 years of work by "The Brown Nurses". Br. Des Murphy, fms., chaplain at Marist Youth Care, had his project completed with Marscom, which is entitled "Marists Beyond Borders". It details the establishment of Christianity in the Pacific region and the DVD's presentation in Fiji to Marists worldwide was a big success.
Mr. John Corrigan, Director of Kids 4 Kids Inc, a non-profit organization assisting disadvantaged children worldwide, says "Br. Oswin filmed for us since 1989 when he first started Marscom TV until he became too ill to do so. He filmed in various countries and now the Marscom team do almost all our overseas film and video work. We couldn't have made the documentaries and video clips that we've produced without Br. Oz and Marscom."
….. and so, the dream of Br. "Oz" lives on, not just as a dream but as a reality……       and with the advent of the internet, Marscom Television expanded to Marist Media.